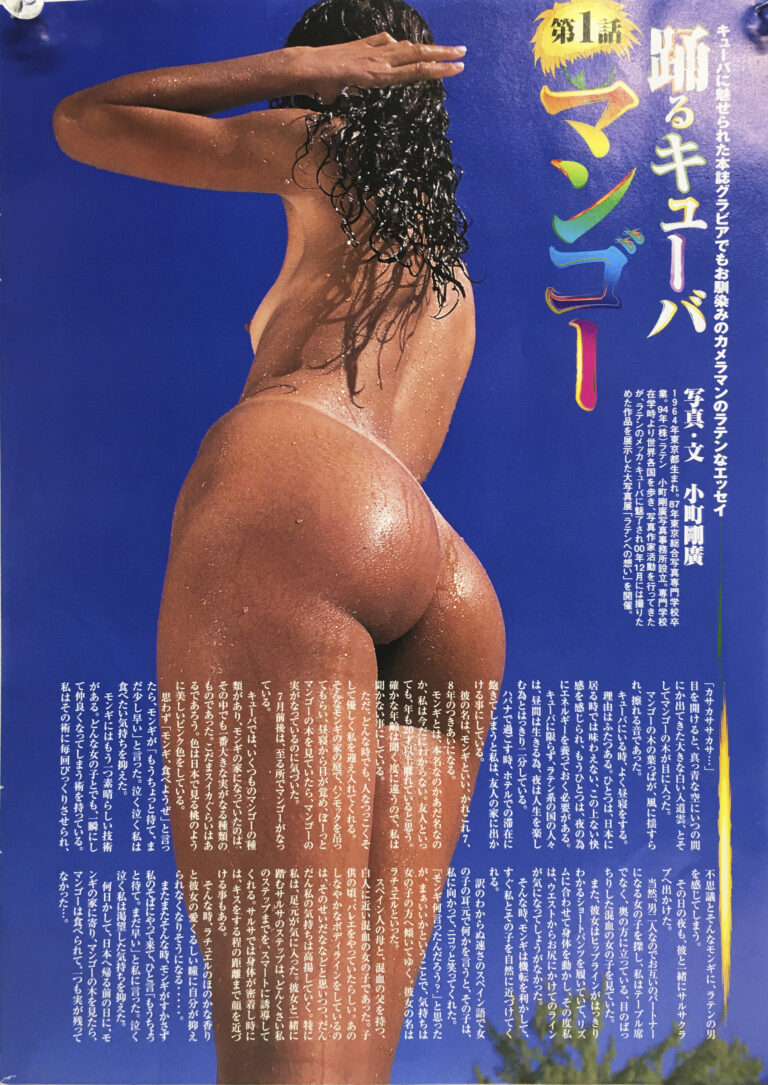 Photographs and texts by Masahiro Komachi
(This manuscript was serialized in 2003.
It is posted as it is to give a sense of reality at that time)
"Rough and dry ..."
When I open my eyes, I find myself in the deep blue sky
The big white cumulonimbus that came out,
And I saw a mango tree.
The leaves of the mango tree
It was a rubbing sound in the wind.
When I'm in Cuba, I often take a nap.
There are two reasons.
One is that you can't taste it when you're in Japan.
You can feel the utmost pleasure, and the other is
You need to feed your energy for the night.
People of Latin descent, not just Cuba,
It is clearly divided into two, one for living in the daytime and one for enjoying life at night.
When spending time in Havana, staying at a hotel
When I get bored, I decide to go to my friend's house.
His name is Mongi, and he has been with him for seven or eight years.
I still don't know if Mongi is his real name or nickname.
I think my friends are over 20 years old.
I don't ask because the certain age is different every time I hear it.
However, he always welcomes me in a friendly and kind manner.
In the garden of Mongi's house, I asked him to hang a hammock.
I woke up from a nap and got a mango
When I was looking at the tree, I noticed that it was bearing fruit.
Mangoes are everywhere around July.
In Cuba, there are many types of mango,
The house of Mongi was
Among them, it was the kind that produced the largest fruit.
There will be about Kodama watermelon.
The color is pink, which is as beautiful as the peaches you see in Japan.
If you instinctively say "Mongi, let's eat"
Mongi said, "Wait a little longer, it's a little faster."
I cried and cried I suppressed my desire to eat.
Also, Mongi has another great technology.
Make friends with any girl in an instant
I have a way to put it away.
I was surprised by the technique every time
Mysteriously, such a Mongi makes me feel a Latin man.
That night, I went to the salsa club with him.
Of course, since there are two men, I searched for a girl who would be a partner for each other,
I'm standing in the back, not at the table,
I was watching a mixed-race girl with tight eyes.
Also, she has a clear hip line
Wearing shorts, to the rhythm
I move my body, and each time I move from my waist to my butt
I couldn't help but be worried about the line.
At that time, Mongi was smart and
It will soon bring me and her child closer to nature.
In Spanish at an incomprehensible speed
When you say something in the girl's ear, the child
He smiled at me.
I thought, "What did you say, Mongi?"
Well, my feelings tend toward the girl.
Her name is I'm Ratuel.
To a Caucasian with a Spanish mother and a mixed-race father
It was a close mixed race girl. When I was a kid, I played ballet
It seems that he was doing it.
I have that supple body line
While thinking that it was because of that
Gradually my feelings are uplifting.
I especially liked my feet.
Salsa's steps with her are
It will guide you smartly to my step.
In salsa, when the body is in close contact, it is enough to kiss
Sometimes I bring my face closer to a distance.
At that time, with the faint scent of Ratuel
Her lovely eyes make me almost uncontrollable ...
At that time again, Mongi quickly
Come by my side and say a word ...
"Wait a little longer. It's too early," he told me.
I cried and cried I suppressed my thirst.
The next day, when I stopped by Mongi's house and saw a mango tree,
All the mangoes were cut and no fruit was left ...