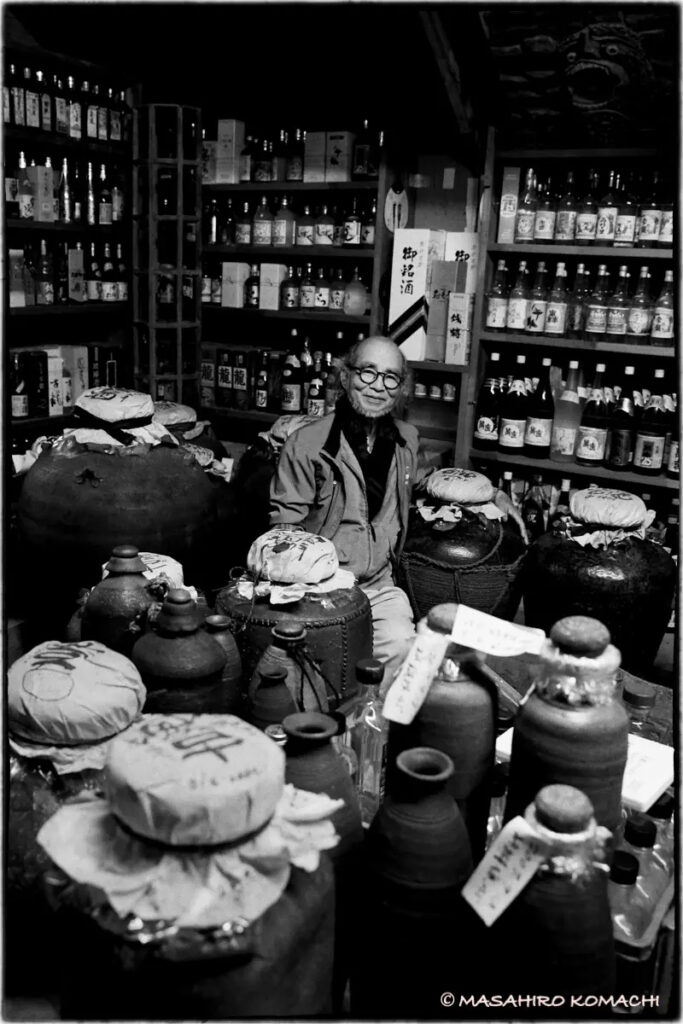 〜Old sake jars in the tokonoma of every home〜
Chairman of the Yanbaru Island Sake Club
Director of the Nago Founder Museum
Currently Awamori Hermit
Photographs and text: Masahiro Komachi
About 30 minutes by car from downtown Nago, I found the studio of Seibin Shimabukuro (hereafter referred to as Awamori Hermit).
It has been used as a filming location for the NHK drama series "Chimu Dondon" and the movie "Kamui Den".
A place called Teninya, which is rich in nature
In front of Awamori Sennin's studio, there is a 250-year-old Ukamimatsu tree, which is designated as a natural monument. This tree is not belonging to Sennin, but appears to be part of her grounds.
When you enter the site, the creek is flowing first, and you cross it. Later, I heard that about 1 or 2 years ago, more than 10 giant eels were caught in about 2 hours in this stream.
(Is it kabayaki???)
A wide variety of plants decorate the grounds. When I visited in mid-March, beautiful red flowers were blooming.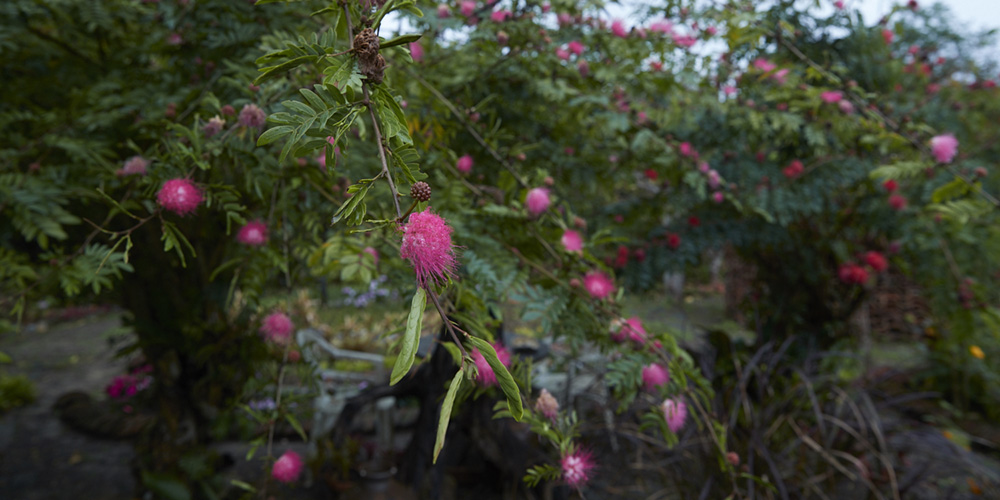 Hermit's workshop is a semi-cylindrical shape made of twins.
Completed in 2009. It's been years since we made it ourselves. Later, when I heard various stories
Hermit was a person who could handle everything by hand.
If you look closely, you can feel the gentleness of the kamaboko-shaped workshop.
It was made by sticking wood well there.
Quietly 100-Years Cram School Mansouan
The name of the workshop is "Quietly 100-Year Cram School Mansouan".
According to the hermit, this is a workshop with a grand plan to silently complete it in 100 or 200 years.
In addition, the area around the workshop is covered with many vines and grasses, so it is called Mansouan.
Inside the workshop where old sake is made over the course of 100 and 200 years…
Enter the first workshop near the entrance.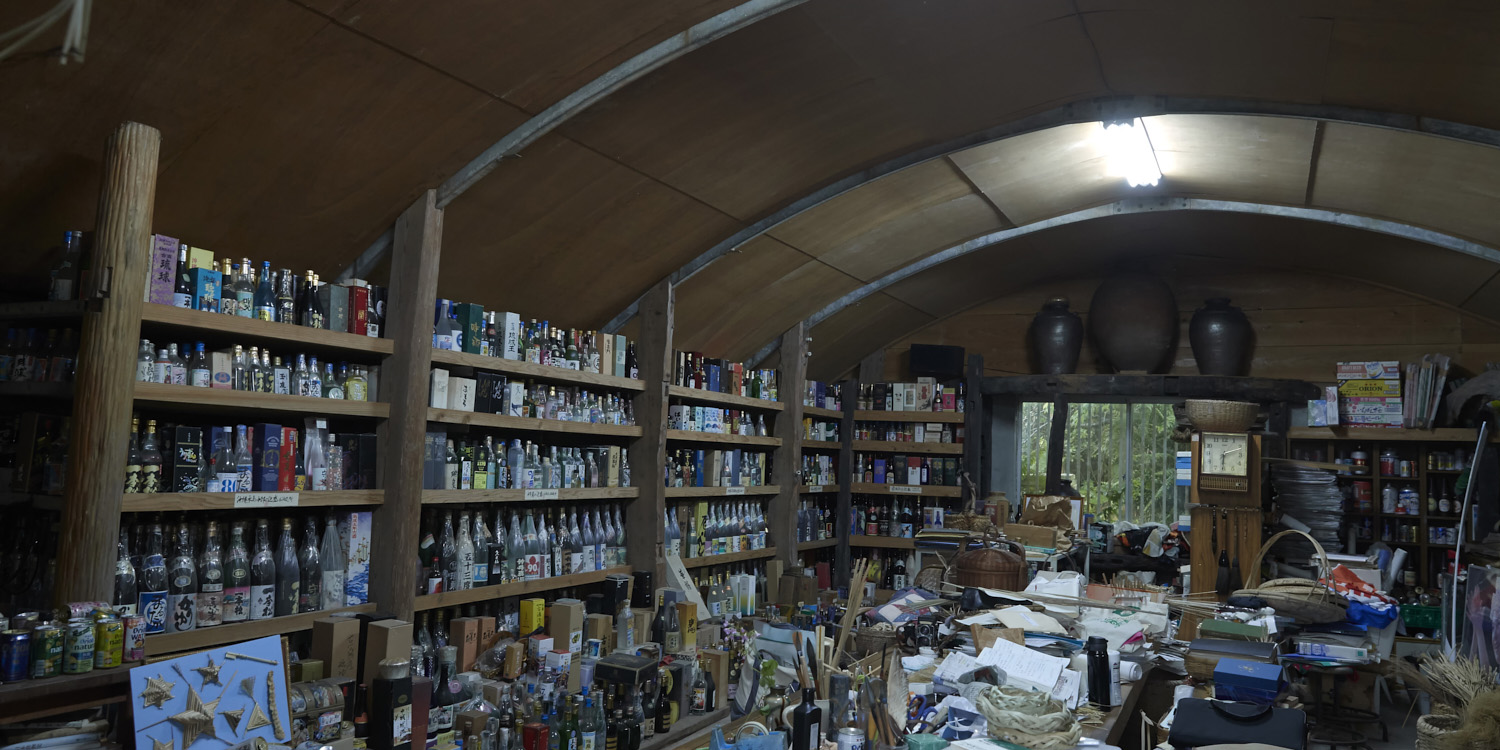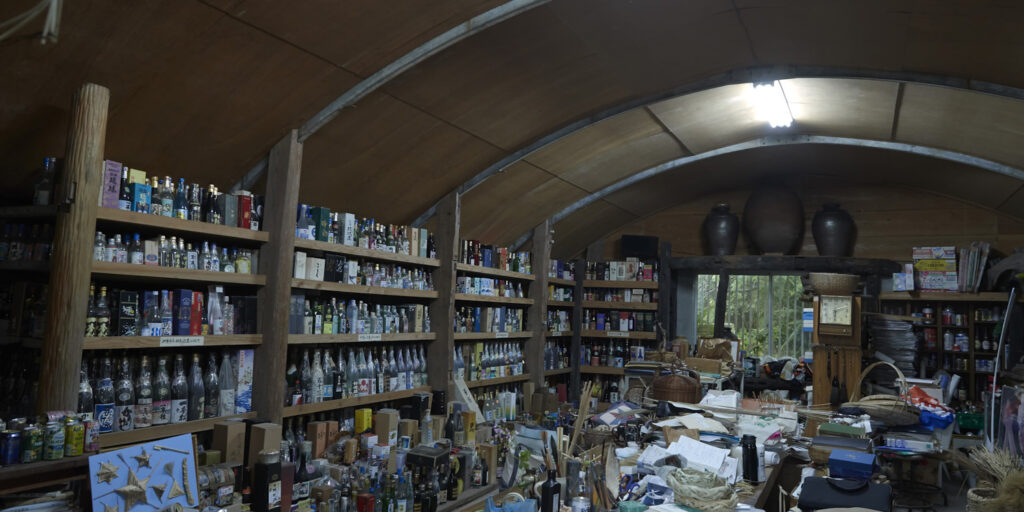 It was raining when I visited, so it may be darker than usual.
I feel that this kind of darkness is kinder to Awamori.
The brightly lit display is easy to understand for those who see it, but it is stressful for Awamori.
This is because awamori is aged in the bottle.
When you come here, you will be surprised by the amount of awamori.
In addition to the photo above, there are also rows of awamori in the adjacent workshop.
I'm probably asked the same thing every time… I asked a question.
"How many are there in all?"
"Sangobin, Shigobin, and 1shobin, all together, a little over 9,000 bottles in 2020, and 9,500 bottles now."
Awamori from Miyakojima, Awamori from Yaeyama, etc. are placed neatly.
In a rare place, 56-years-old awamori "Todoroki".
This is still made and sold at Helios Distillery, but this "Todoroki"
It is produced by Nago Brewery, which is now out of business, and is now said to be a phantom awamori.
A book that can't respond to awamori lovers.
Then go to the workshop in the back.
There was a unique rich sweetness, vanilla and fruity scents and noble alcoholic scents breathing.