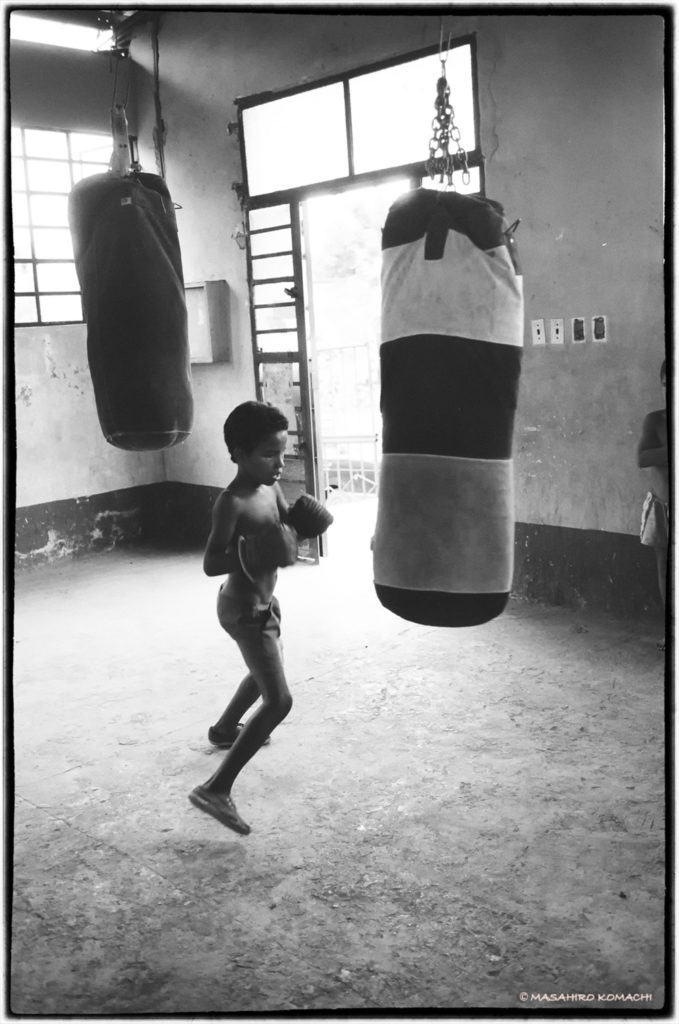 Photographs and texts by Masahiro Komachi
(This manuscript was serialized in 2001.
It is posted as it is to give a sense of reality at that time. )
Weekly Jarful Series 3rd
-Hungry spirit-
"This will definitely get stronger."
This guy is the boy in this picture.
I dare to say this guy
One of my favorite photos I've been taking in Cuba.
Because I'm a big fan of this boy.
The country of Cuba is always noticed as the Olympics approach.
At last year's Sydney Olympics, he was the ninth-largest medal-winning country in the world.
Perhaps it is the largest in the world in terms of population (by the way, Cuba has a population of 11 million).
Earlier, I visited a boxing gym in Havana.
It appears in the manga "Ashita no Joe"
It was just like Tange Jim.
The mat on the ring looks very stiff, just with a blanket on the veneer board.
The number of sandbags is also limited,
Instead, a lot of dump tires were hung.
At the gym, as if you were obsessed with something, Sand
Sweat in bagging and shadow boxing
There were a lot of people who were shedding.
Among them, I was interested in other things
It looks very light compared to people Hitting a punching bag
It was his appearance.
On the floor, which would be made of cement,
It bounces lightly like a trampoline
I was surprised at the strength of his spring.
When you notice, you're crazy about the shutter
I was cutting myself.
Boxing in Cuba is awesome.
From Japan to Boxing Gym
I heard that shooting coverage will come
Boxing Jim O OB strong man,
Weightlifting alumni also rushed in.
When I release the shutter while talking to them a little
"In the past, Japan was a boxing powerhouse, but what happened these days? Why?"
I'm not a boxing expert
I can't say for sure,
It 's often said that
Because the hungry spirit has faded
I sold the words and answered so.
Then they asked, "Why don't you eat rice?"
And said
"We are all hungry now."
Added.
Moreover,
"Since all Cubans are now hungry,
I dare not use the word spirit. "
The face of the man who said
It looked like a dub with the representative boxer Guts Ishimatsu.
He must have been Hungry, not his spirit.
By the way, when I interviewed him in the photo after shooting, he said.
"I haven't had breakfast yet. I'm hungry …"