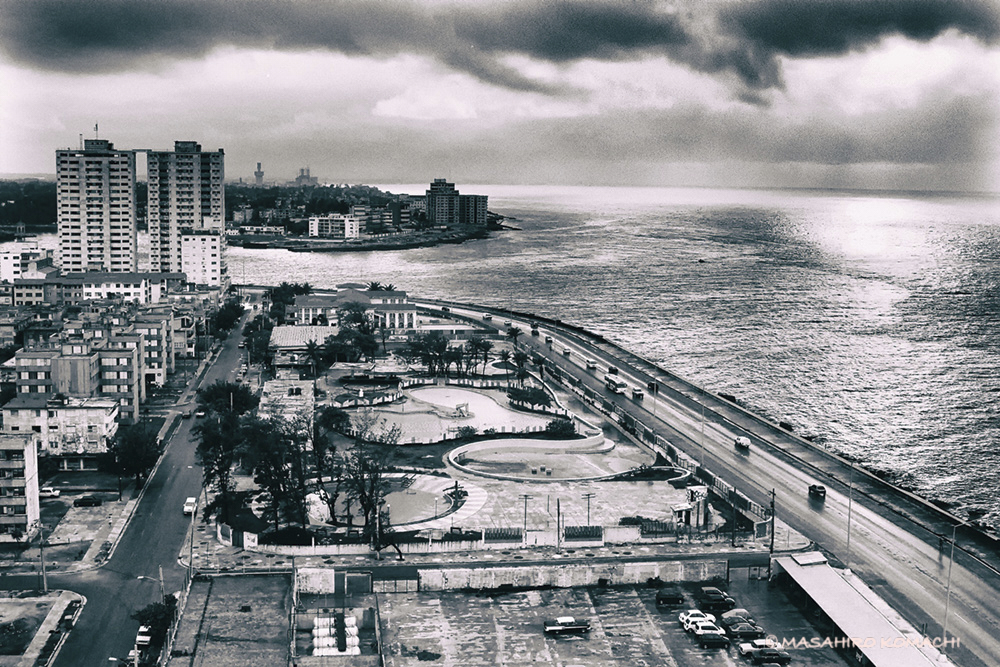 Photographs and texts by Masahiro Komachi
(This manuscript was serialized in 2001.
It is posted as it is to give a sense of reality at that time. )
Weekly Jarful Series 9th
– Riviera –
Looking out from the window of the room on the 19th floor
I thought, "It's okay to sleep again."
When staying in Havana, choosing a Riviera Hotel
Often there is. This hotel has been around since before the revolution
There is a difference between the setting sun and the morning sun,
All rooms have ocean views.
When you go out at night or at an event in Cuba,
The moderator always says: "The nights in Cuba are still young.
Have more fun "
Usually the expression "still early",
He says he is young here in Cuba. I don't care
My heart is strangely tickled in such a place.
I just played until 4 or 3 in the morning,
Even if I return to my room, I always get up around 9 am.
The reason is simple, because most Cuban accommodation styles include breakfast.
Because I always try to eat it.
Have breakfast and hang out in the lobby or neighborhood for a while
When I return to my room, it is often near noon.
At that time, drowsiness always strikes.
Definitely when you have no plans
I'm going to take a nap.
Just beyond the sea seen from the window,
There were rain clouds, so I chose to take a nap.
However, after this convectional rain, a wonderful sun will come out.
I know that there are many things to do
I kept taking a nap while holding the camera so that I could shoot at any time.
As I expected, an amazing squall came in an hour.
Still, I was lying on the bed in a singing state.
A little later, the light suddenly hit my face,
It was hot and I woke up completely.
It's still raining, but it's sunny. In Japan
It is a fox's marriage.
I opened the window slowly, without rushing or rushing
I looked around and released the shutter several times.
Malecon Street, which continues from Havana Bay, is also in Havana
This is a typical street.
The Malecon street was washed in the rain, and I came out quickly.
The sun reflected the sky on the asphalt-colored road,
It is slightly dyed blue. The sea that follows is also
There is a glittering part in the strong squall.
The waves are a little rough, calm,
He showed various facial expressions at once.
As a photographer, being able to encounter such situations,
Moreover, the sun took a nap,
Everything about getting a photo opportunity
I think it is a god's blessing.
This is all about the photographer.
Cuba is still in a difficult situation,
I think that each and every one of the people is strong and alive.
There are various scenes in the scenery taken at this time,
Each one is the emotions of Cubans
It was that.