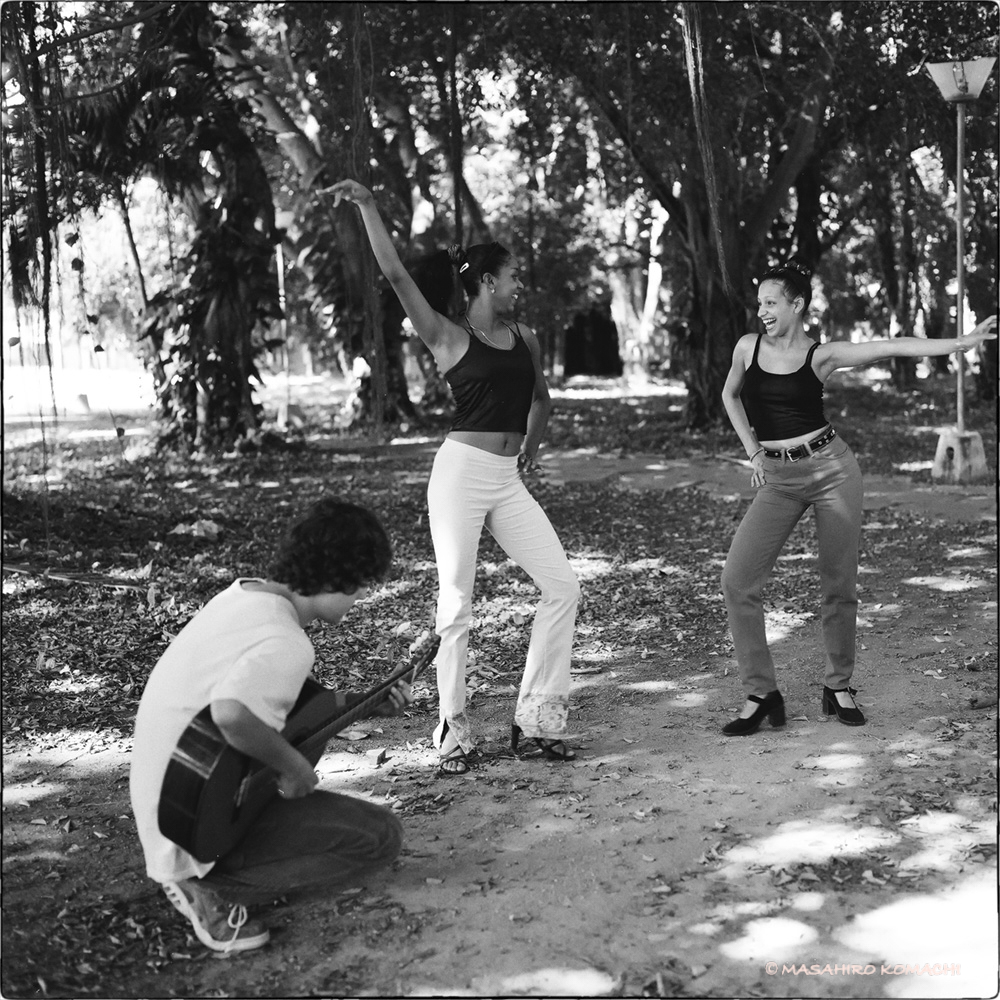 Photographs and texts by Takehiro Komachi
(This manuscript was serialized in 2001.
It is posted as it is to give a sense of reality at that time. )
Weekly Jarful Series 6th
-Salsa is as close to foreplay as possible (Part 1)-
When I was a kid, when I talked to people from my father
Don't trust the one who looks away,
I have been disciplined.
Even if you don't care about it,
It seems that they have been trained to look closely.
Eyes of people in Central and South America, including Cuba
Is very hot, and since I was little
Even I, who is accustomed to matching
There are times when I'm having trouble with my eyes.
It was an event at a club in Havana.
I came back to my seat from the toilet and got rum
When I'm drinking a cocktail
I felt my gaze on my back from behind, and suddenly
Looking back, the hall was dim, but my eyes were patchy.
I noticed a black-haired woman looking at me.
However, I turned to the stage without worrying too much,
After a while, I was worried again, and when I turned to the back, after all
She was glancing at me.
Did you meet her somewhere in such an exchange?
Time passed, remembering what?
I want to go to the bathroom again, so I pass by her
At the end she came up and talked to me.
The Spanish she speaks is very hard to hear,
The sound at the venue was so loud that I listened to it many times.
People in Spanish-speaking countries are already free
Speak as if you were screaming. Not to mention the Cuban story
Spanish rarely pronounces the S at the end.
Omit the ending, or put words together in the middle,
The feature is to speak impatiently.
There was nothing like that.
He was talking hard, saying, "Give me a glass of beer."
Her name is Maerine.
My black hair is a little waved, up to my shoulders.
It 's not a slender feeling,
It was a little plump girl.
As usual, bread with a clear hip line
I was wearing it. In Cuba like this,
It is not uncommon for women to casually ask foreigners for beer.
She is very cute, partly because I was drunk
I could see it, so I bought a glass of beer.
This time I asked for a cigarette, my cigarette,
If you give one Marlboro,
"This cigarette is strong and not good for you," he said.
Usually, people get cigarettes,
If a Japanese person says something like this, then don't smoke
I'd like to say that I'm definitely myself
I put up with the Latin person who expresses my intention.
When I looked closely, I was smoking my cigarette.
While thinking "Ooioi", I gave her salsa
I asked you to tell me.
She casually replied, "OK!"
Suddenly I stuck to my body and put my hands around my waist.
I don't know how to take the salsa steps,
Let go of the body she has been in close contact with and let her teach you how to move her legs.
Somehow understand, hold hands, together again
When I danced, I was still worried about how my legs moved,
When she looked at her feet, she said, "Don't look at your feet. I'm looking at you."
Also, she can see her feet. Keep your body in close contact so that it disappears
She and I are about 30 centimeters away
I decided to make eye contact. (Continued to the second part)