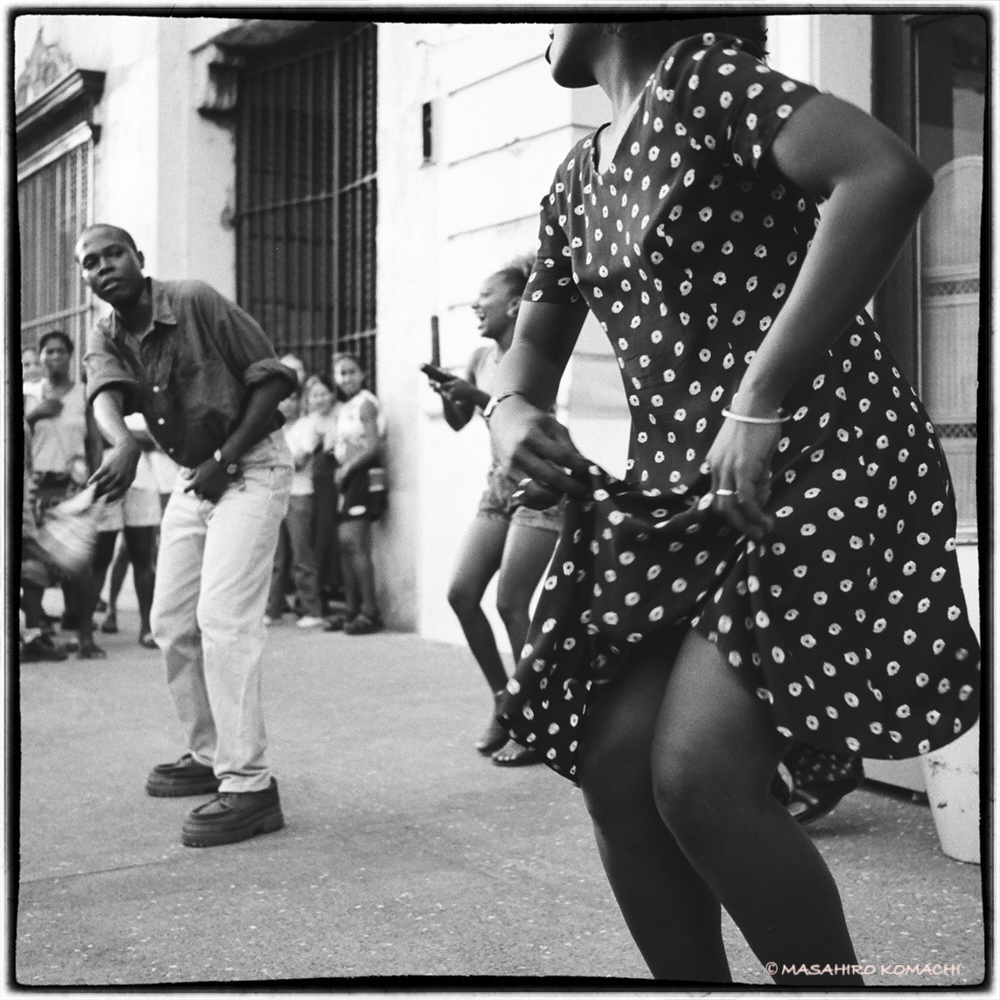 Photographs and texts by Masahiro Komachi
(This manuscript was serialized in 2001.
It is posted as it is to give a sense of reality at that time. )
Weekly Jarful Series 7th
-Salsa is as close to foreplay as possible (Part 2)-
"..."
I couldn't make a voice, and I was driven by a stronger impulse
Faster than things fall from high places
I was sucked into her eyes.
On the way, she hardly talked,
He just said, "Listen to the music!"
Occasionally in the sense of advising me to break the rhythm
I thought she said, but she wasn't thinking about anything.
However, I just felt the beat of salsa with my ears and body,
Take steps and shake your body with that rhythm
However, he seemed to lead himself to pleasure ...
Gradually it looks like her face is feeling,
I feel sex appeal. When I danced a few songs and sat down with her,
When I fall into the illusion of being in a movie scene,
I was called out to "KOMACH SAN".
His name is Ramon. I'm Cuba first
It was a guide when I visited.
Japanese is not good, but
A nice guy who loves to take care of him.
He was a guide for a group of about 10 people,
Come to my side
"KOMACHISAN, I don't have much time.
Please save more. "
Said.
I saw the enchanted appearance of Maereen,
I thought she was a little bored ...
He lived up the conversation in Spanish, which he was not used to.
She still feels the salsa beat with her body
Clearly when you're smiling and dancing
I felt that my facial expression was different.
After a while, I danced with her again.
Her more than when she was dancing for the first time
When the face becomes more sensual and the beat becomes more intense,
From face to face she spins around, shakes her hips violently,
Push your ass against me. The separation peculiar to salsa
In the steps of sticking and turning
Feeling her breathing in my ears
She guides my hands to the waist, shoulders and face.
Her face is completely unthinking, just
Heading for pleasure. At the same time, in my head
Become pure white and proceed to a deeper sensual world
He captured Maelin with all five senses.
I thought Salsa was as close to foreplay as possible.
Salsa feels very good just by looking at it
After all, if you try to dance with watching
There is a difference in cloud mud. At that time,
I was told in poor Japanese
I understood the meaning.
"KOMACHISAN
I don't have much time. Please give me more Sawatte "